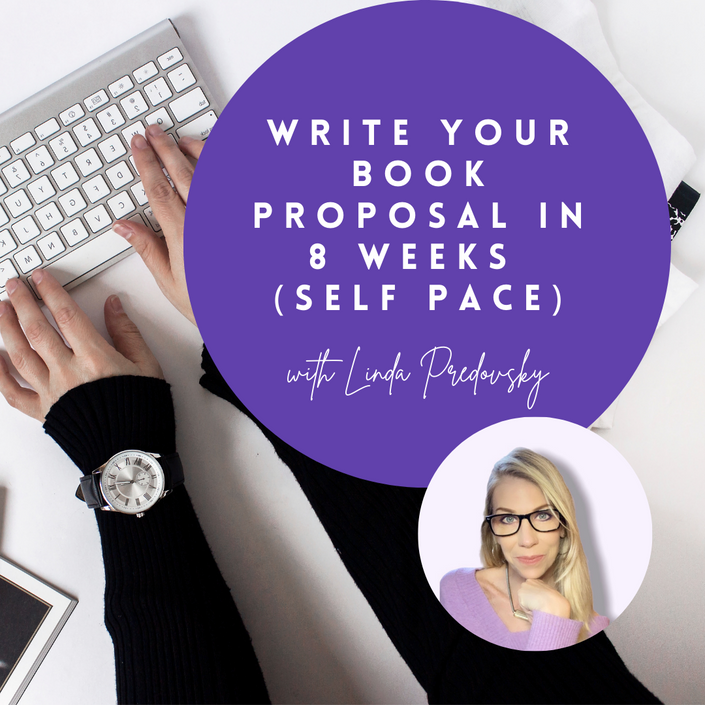 Write Your Book Proposal in 8 Weeks (Solo Track)
with Linda Predovsky
YOU KNOW YOU DON'T WANT TO SELF PUBLISH
YOU WANT A LITERARY AGENT
NOW DISCOVER HOW TO GET ONE
What if you could write a nonfiction book proposal that landed you a literary agent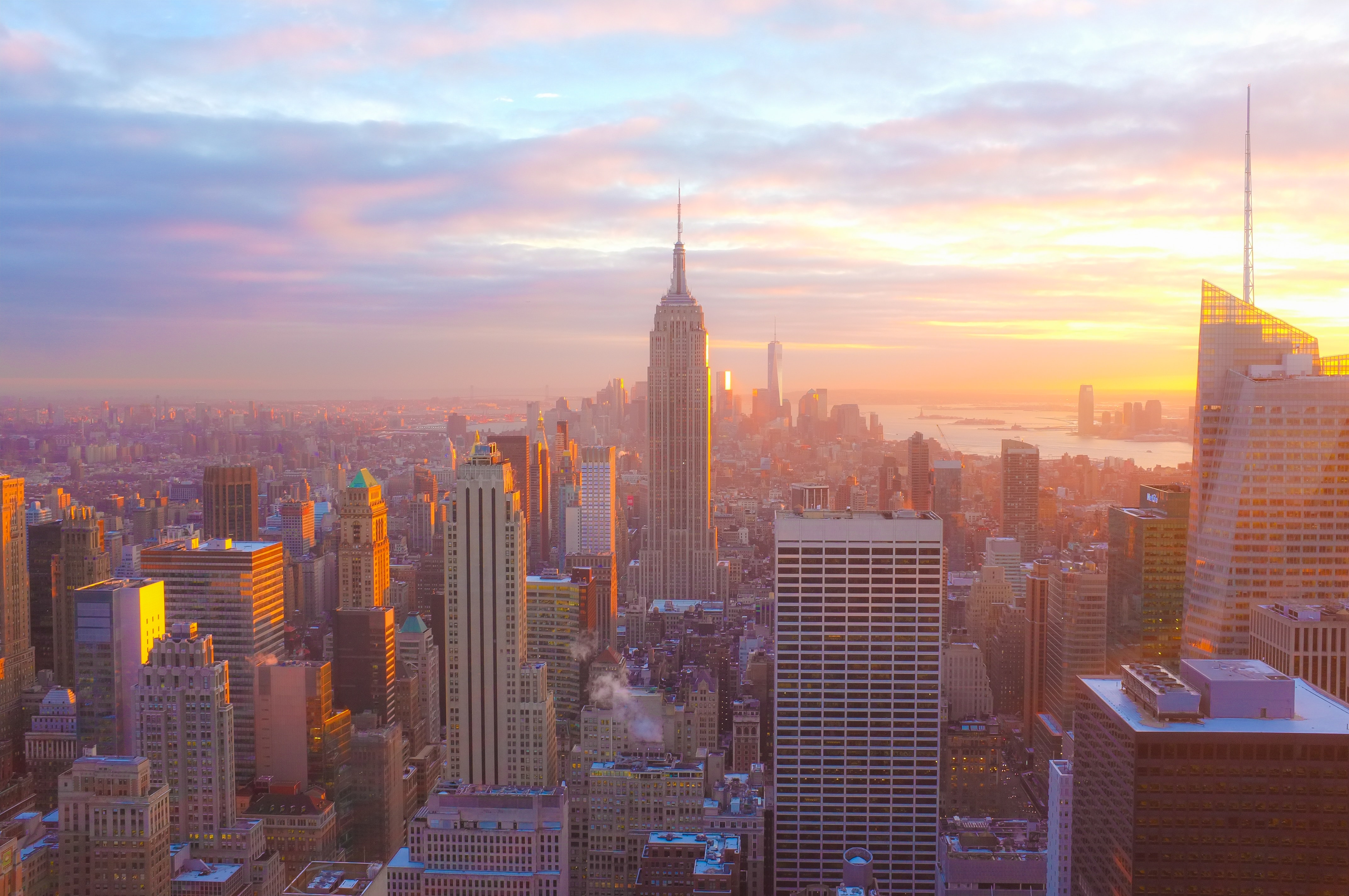 Yes, it's totally possible, even if...
You have no professional writing experience (why would an agent want to represent me?)
You're too busy - you don't have a lot of extra time to devote to a book project (even though you know there's a book inside of you dying to see the light of day and/or writing a book would help your business)
People tell you it's impossible to get a literary agent (Good luck with that!)
In this self-paced course, I'm going to show you exactly how I landed a top agent for my nonfiction book, THREE TIMES!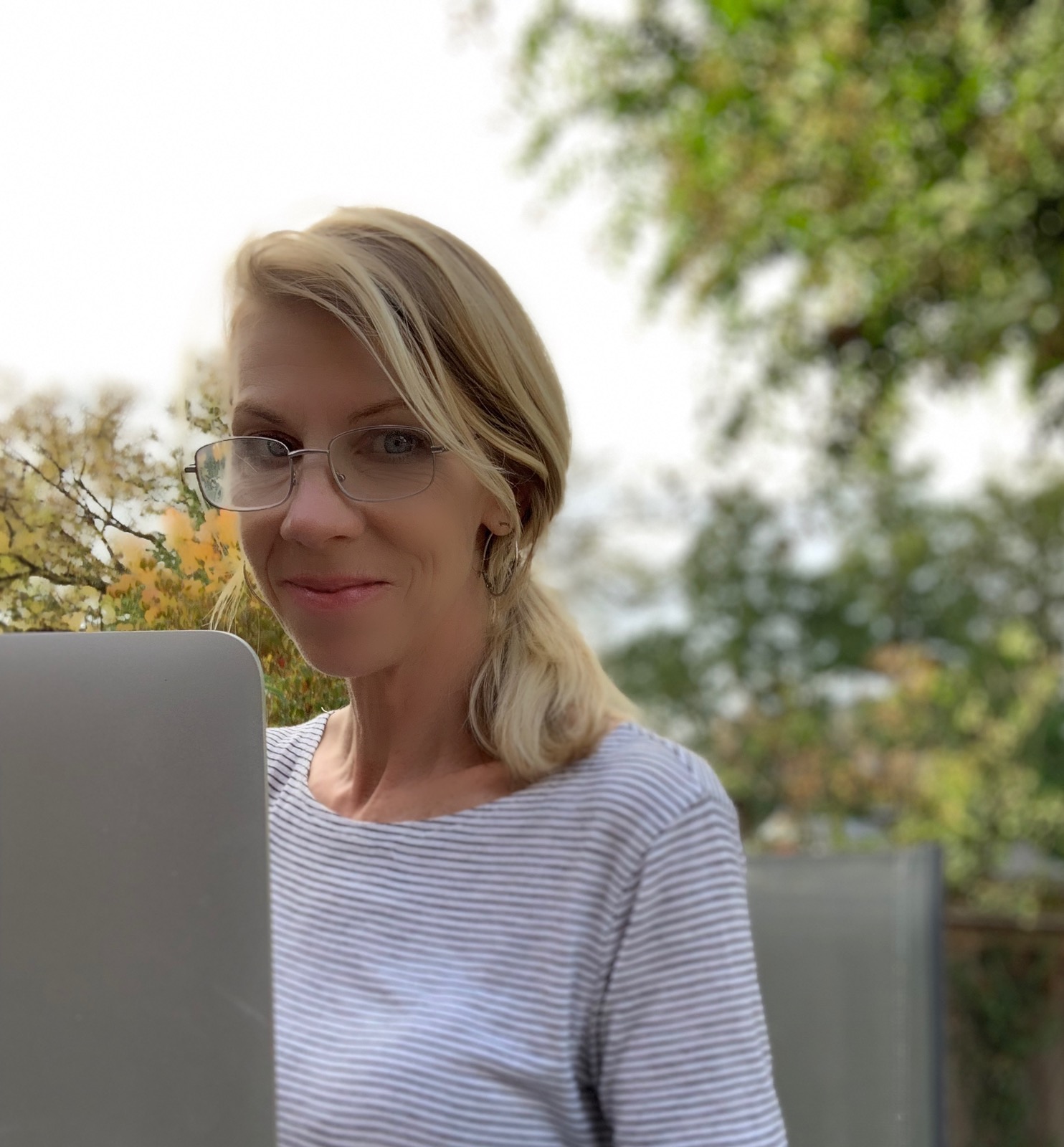 It all comes down to writing the kind of proposal an agent wants to read.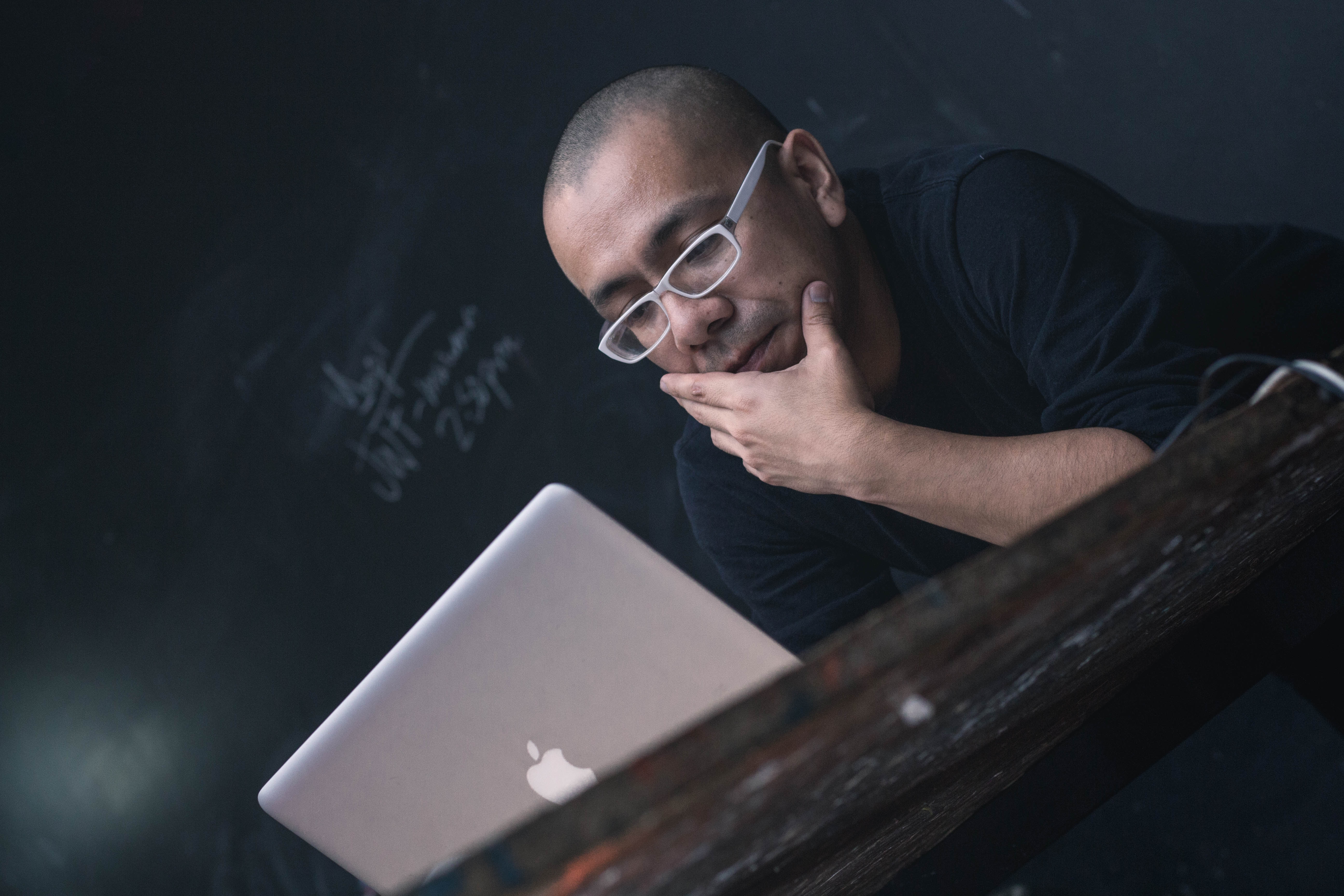 Before I jump ahead, let's make sure we're on the same page.
This course is about how to get literary representation for a NONFICTION book project.

Unlike a work of fiction that requires submitting an entire manuscript to an agent for consideration...

A work of NONFICTION is well... easier!
👏👏👏

All you need to provide is a book proposal!
In fact (and you're going to love this!), once you have an agent, you can write your book while your agent is pitching your project OR after you have a publishing deal.
👩‍💻👨‍💻

In this course, I show you exactly how to craft a professional book proposal for your NONFICTION book project.

The kind of proposal that instantly tells an agent you know what you're doing.
I cover format, pacing, tone, content, the small nuances that make a BIG difference + more.
What you won't find online, you get in this course.
I take you through every single step of the writing process AND every page of the proposal.
Absolutely everything is covered.
All you need to know about writing the kind of book proposal that will get attention.
And, how to do it.
Follow along with me, and write a professional agent-worthy book proposal that is ready to submit to agents.
IT WILL TAKE DISCIPLINE & COMMITMENT ON YOUR PART
BUT IT IS TOTALLY DOABLE
HERE'S HOW...
Within this course I offer you the rare opportunity to download a very special eBook that contains an agent-approved, industry standard nonfiction book proposal in its entirety, to use as your proposal template. #gamechanger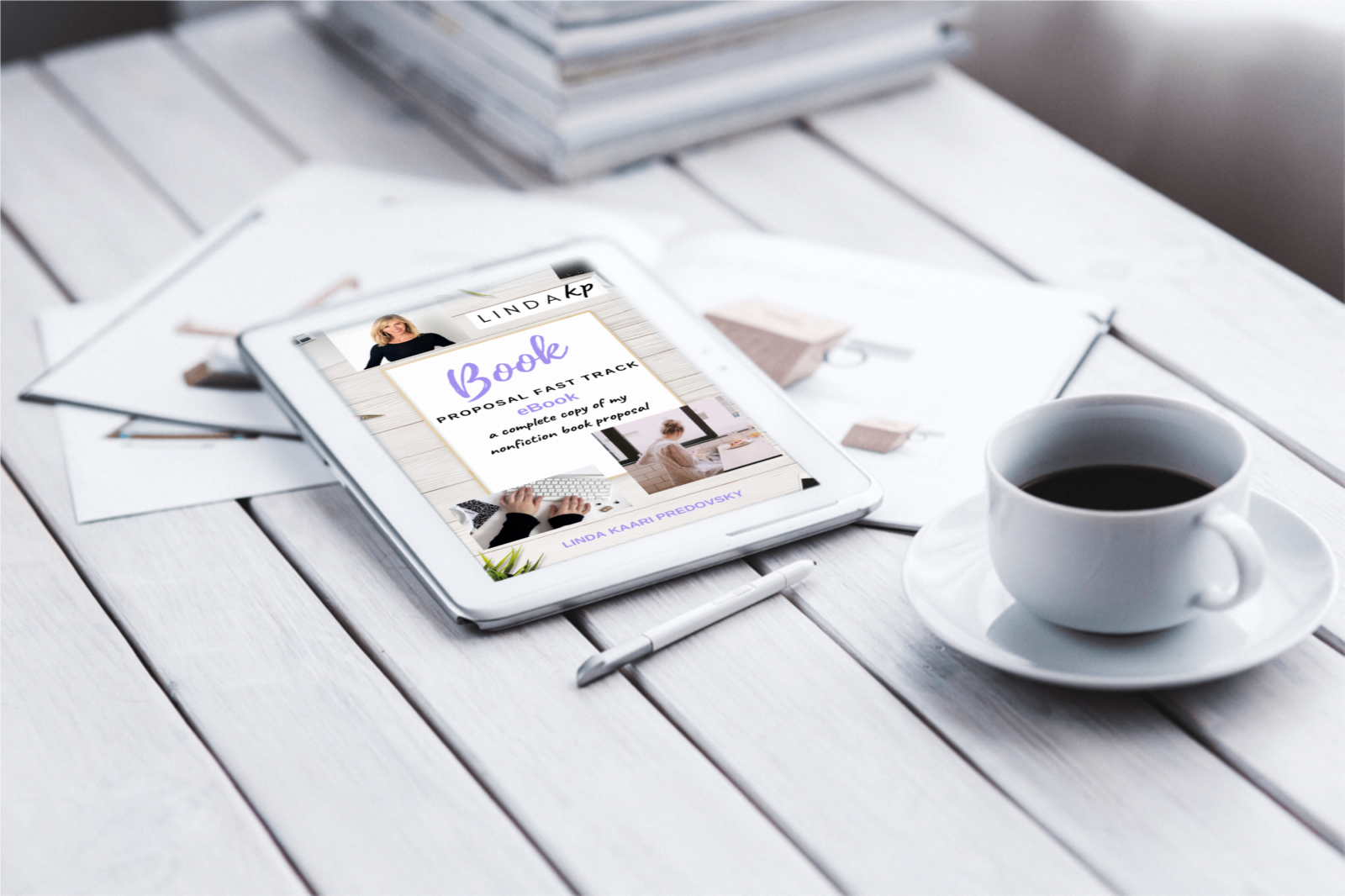 This eBook contains the complete original version of the nonfiction book proposal I wrote while seeking representation for my book, Train Like an Actor, Change Your Life.
In less than 10 days after submitting that proposal (exact one included in eBook), I received two top agent offers and multiple requests for more information.
I signed with Trident Media Group.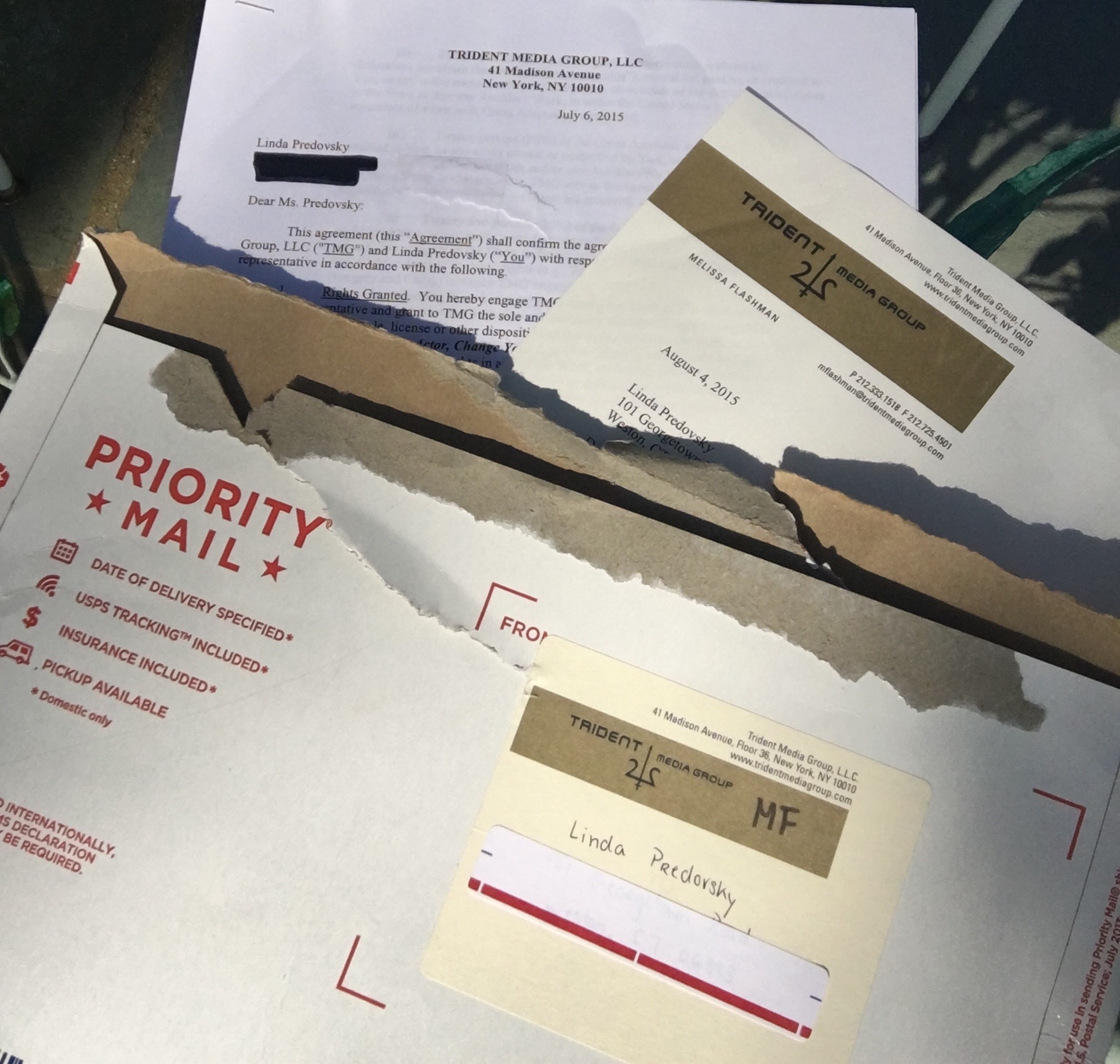 Use my book proposal (all of it) as your guide during each lesson.

Increase your chances of landing a top literary agent for your nonfiction book.
The Biggest Mistake You Could Make

Before you make up your mind about whether or not to take this course, I'd like to let you in on something.
The reason most people opt for self publishing (remember, we're talking nonfiction here) isn't because getting an agent is impossible, it's because they either believe it is OR they don't want to have to write a book proposal.
Maybe they've tried writing one, but decided they didn't want to put in the work.
Maybe they've followed online guidelines and while it was enough to get them going, it wasn't enough to help them finish.
And definitely NOT ENOUGH to get an agent.
But here's the thing.

A book that's worth buying is one that the author has not only taken the time to develop, but has made the professional decision to craft a book worth reading.
In other words, you must write an agent-ready proposal that contains all the things agents want to know about (you and your book project) in specific detail.
There's a special way to do this.
I show you how in this course.
You might be asking yourself, isn't there a faster way?
Sorry, but no.
Not if you're serious about getting an agent.
Even if you're starting to think maybe I'll just self publish then I can skip the whole proposal thing!
The truth is, if you really intend to write a good book, at some point you'll want to address all of the information an agent wants to see in a nonfiction book proposal anyway...
So, why not go for it?!
Think of it This Way...
A literary agent is a business partner.
A literary agent believes in YOU and YOUR book project (otherwise sh/e wouldn't have taken you on as a client).
A literary agent's goal is to find YOU a book publisher!
So, how to get one...
I'll be honest.
Going from proposal to agent to publisher takes time.

There is a process.
You'll want to write a good proposal, which will take as long as it takes depending upon your schedule (it took me four months to draft and polish mine).
There is the pitch to agents and time to receive responses.

After landing an agent, remember, your agent has other clients, so while you and your project are important, patience will be your friend.
Your agent will most likely ask you to tweak your proposal (sh/e will provide notes).
Your agent will prepare a list of publishers sh/e thinks will have interest (tip: make sure to be involved in this step).
Once your proposal is in pitch ready form, your agent will submit to publishers.
Another waiting period to hear back from publishers that can take as little as a week to a few months.
This is the way it works.
It's normal.
And, it's WORTH IT.
(NOTE: Self publishing also takes time + it costs YOU money!)
Remember, your agent's job is to find you a book editor from a reputable publishing house that will review your proposal and decide if it fits their publishing needs.
The publishing house is the financial piece and once a deal is made, it will handle the printing, distribution...
Sound good?
So, let me ask you...
What's Stopping YOU From Writing a Book?
The most common hurdles that stop someone from moving forward on a creative project are:
discipline (distraction

- something always pulls your attention in another direction so you never make any progress)

confidence (self doubt

- lack of confidence in your project)

belief (apprehension

- nervous about pitching agents and/or taking your creative project out of your head and into the world i.e. fear of rejection)

know-how (lack of experience -

you could do it if someone would show you how)
From time to time, I felt all of those things and still do periodically.
But, there was a reason I was confident I would get a literary agent...
I Have Done it Before
I Know the METHOD to Follow
Getting an agent for your nonfiction book project is possible when you know the method.

I'm going to give you a hint.
There are three main steps.
STEP #1 Develop your book idea
This is KEY 🔑
If you haven't done this, writing your book proposal will make you want to pull your hair out!
Take a minute now and ask yourself if your book idea is fully developed.
If not or if you're not sure, sign up for my FREE crash course, Develop Your Book Like a Pro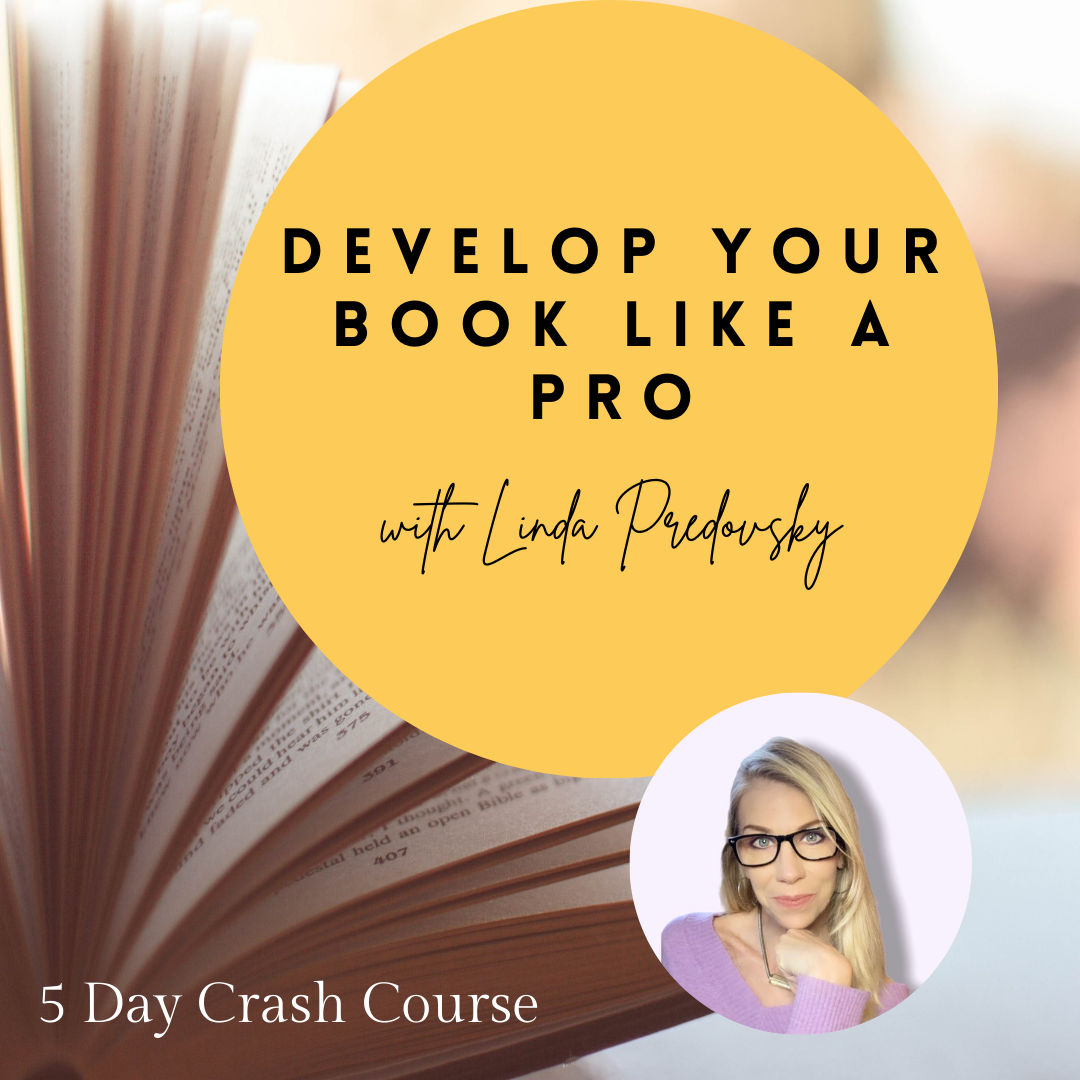 STEP #2 Write an agent worthy book proposal
Sign up for Write Your Book Proposal in 8 Weeks. Once you enroll you'll have immediate access to my eBook, which contains my agent-approved book proposal.
Having the opportunity to see what an agent-ready book proposal looks like makes writing one yourself doable.

Not only that.

You get to review a nonfiction book proposal multiple agents said YES to representing.
No more trying to write it alone.
In this course, I go over every single page of the proposal with you.
There is no way you won't finish writing your proposal when you join Write Your Book Proposal in 8 Weeks unless you simply choose to quit.
But I don't think you will because you've read this far! 😄
I'm going to share a secret.

Getting a Literary Agent Just Got a Whole Lot Easier

One of the main reasons I was able to land two top agents in less than 10 days was that I was given a copy of a book proposal that a high powered literary agent used to get a book deal. And, I used that book proposal as my template.
Write Your Book Proposal in 8 Weeks gives you the same opportunity.
STEP #3 Pitch your book project and get results
I'm getting a bit ahead of myself, but I want you to see something...
A Copy of an email I received from an agent
THE SAME DAY
I pitched my book project!
SAY WHAT?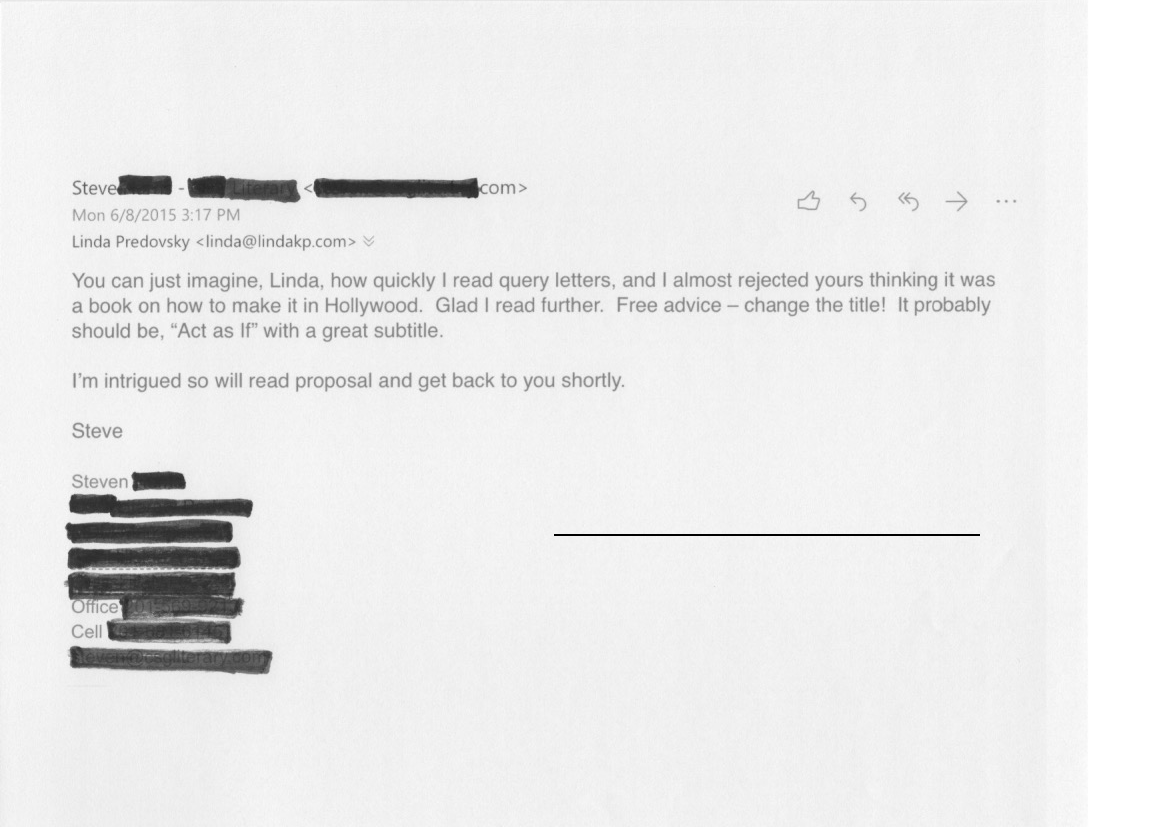 I'm going to tell you what happened with this agent (who almost rejected my query due to TITLE, can you believe it?!).
Read to the end to FIND OUT!
Meanwhile...
Here's How the Course Works
Write Your Book Proposal in 8 Weeks is designed to keep you moving at a pace that allows you to complete a pitch-ready nonfiction book proposal (as quickly as YOUR schedule allows).
Each lesson within the course is a module. Each module is broken down into digestible segments of actionable information that will take you about 2-3 minutes to review.

The best results are when you spend time working on your proposal during each lesson.
There will be a short assignment at the end of each module that you'll want to complete before moving ahead.
It's up to you how long you spend on each module or section.
The rule of thumb is to avoid rewriting as you go. It will slow you down causing you to lose momentum.
Don't do it!
Set your goal to finish a first draft typos and all.
As the great, Bernard Malamud, once stated, "First drafts are for learning... Revision is working with that knowledge to enlarge and enhance an idea, to re-form it."

When you follow along with me, you're going to be amazed at how your proposal is coming together!
And then, before you know it, you'll be ready to seek representation for your book project.
How great does that sound? :-)
Well, guess what?
Things just got even better...
I want you to receive the very best value for this course, so I've included a few special bonuses and ONE VERY SPECIAL SURPRISE (I know you're going to love) that you'll receive when you enroll!
Bonus #1
Private Coaching - you'll have an opportunity for me to personally review your book proposal and provide you with comments prior to submitting to agents. ($697 VALUE)
Bonus #2
Pitching Secrets - you'll immediately be put on the WAIT LIST for my course that will show you how to pitch your book project to agents and get results! It includes: a pitching spreadsheet, the system for finding the right agent for you book, and more. ($497 VALUE)
Bonus #3
Lifetime Access and Updates - when you enroll you will get exclusive and LIFETIME access to the course + updates at no extra charge. ($397 VALUE)
🎁SPECIAL THANK YOU 🎁
As a very special THANK YOU for enrolling in this course and for allowing me the opportunity to help you complete your book proposal - I'll be giving you... 🥁 a copy of the query letter I wrote at the end of this course! That's right, the exact query letter I sent to agents for my book project; the same one that landed me two top agents in less than ten days, will be yours. Use it as a guide to write one of your own!
This is my way of ensuring that Write Your Book Proposal in 8 Weeks is a worthwhile investment for you.

Is This Course Really for You?
If you're serious about writing a nonfiction book and want to take the traditional publishing route, meaning YOU WANT A LITERARY AGENT to help get you a good publisher for your book, then this course is for you.
With that in mind - you're well-suited for this course if you consider yourself at least one of the following:
Writer
New author
Self-published author who is ready to get an agent
Entrepreneur
Coach
Speaker
Educator
Okay, now for the big reveal!
Remember the response I shared with you from the agent who almost rejected my proposal?

That agent is the same agent who called me after having read my proposal (the copy of the proposal included in this course) and said:
"I want to represent your book."
Guess what happened?
Another agent contacted me saying she wanted to represent my book! I actually had to decide between the two - a position I NEVER thought I would be in.
I learned A LOT from that, which I talk about it my course, Pitching Secrets (Bonus #2).
📚📚📚

Are You Ready to Start Writing the Kind of Book Proposal an Agent Will Want to Read?
Do You Want to Increase Your Chances of Receiving a Phone Call From an Agent Like I Did Who Says to YOU:
"I WANT TO REPRESENT YOUR BOOK."
If the Answer is YES...
Close the Gap Between the Dream of Having an Agent and Actually Getting One!

Learn from someone who has done it... three times.
JOIN NOW!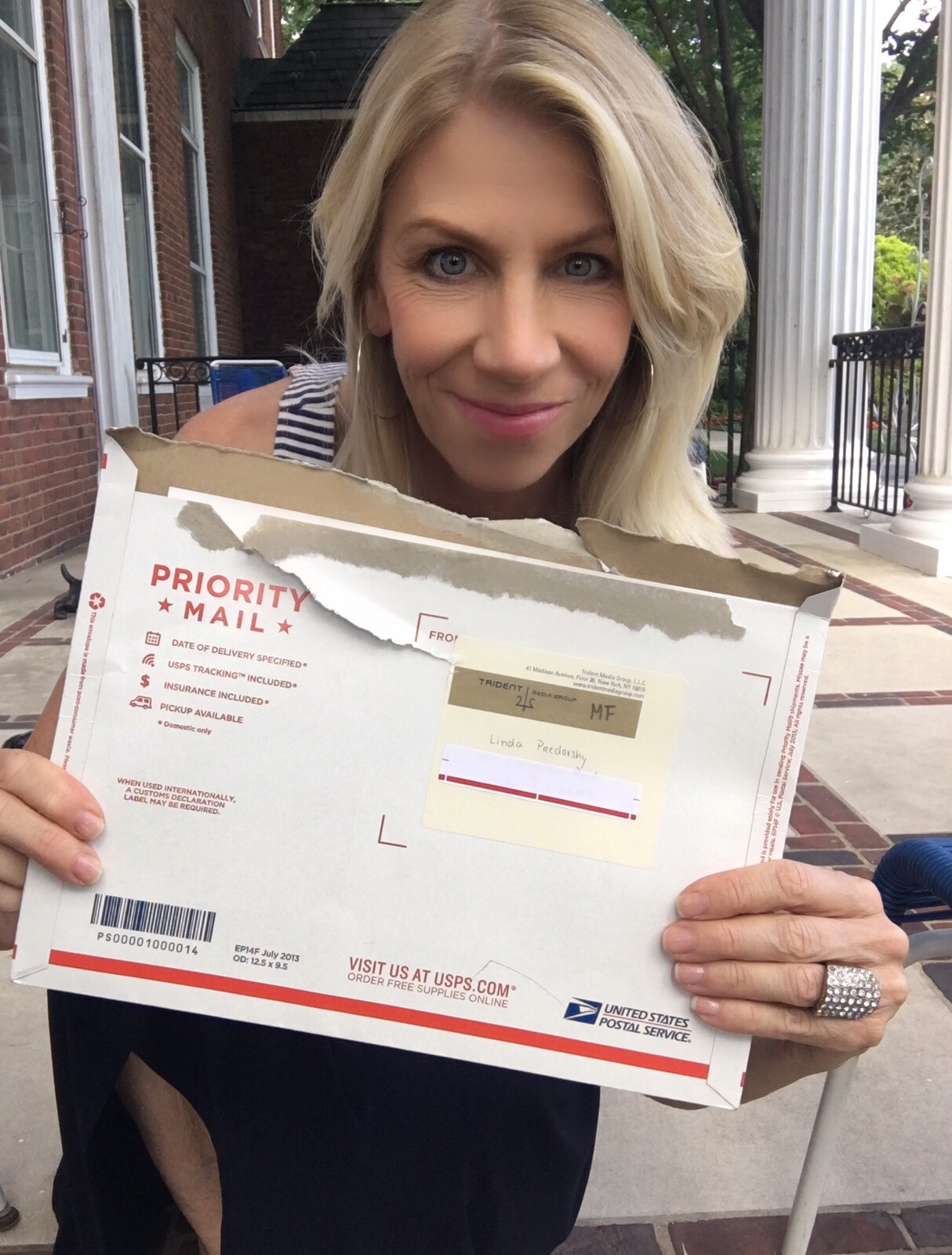 See YOU in Class!
Your Instructor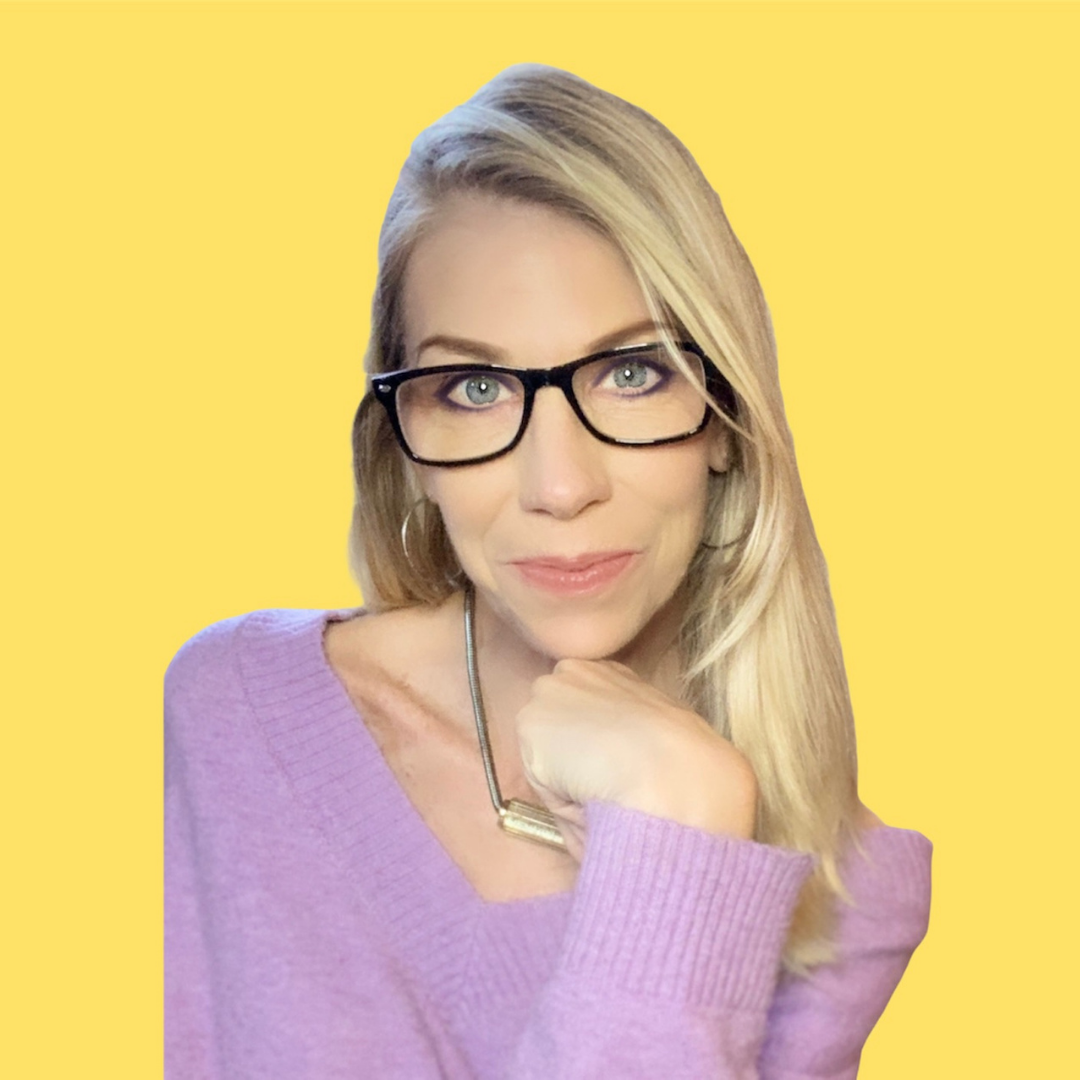 HI, I'M LINDA PREDOVSKY!
It's my sincere pleasure to share my writing expertise and book knowledge with you. From developing a book idea, to writing a winning proposal to pitching agents with real results, my courses were created to make sure you learn all you need to know to go from book idea to book deal!

My background is in entertainment television. Over the span of 25 years, I've worn the hats of writer, producer and production executive for global networks and broadcasters that include: Nickelodeon, National Geographic, History, CBS, ABC, BBC and more. I'm a published author, but most importantly, I've been represented by three top literary agents for television and book projects; I know what it takes to land an agent and I want to help you do that.

While there are no guarantees, I can tell you that if you follow my method, your chances of landing a top agent for your book will increase 100%.
See you in class!

Linda x
Course Curriculum
Module 1 - Quick Intro
Available in days
days after you enroll
Module 2 - Let's Get Started!
Available in days
days after you enroll
Module 3 - Setting the Stage
Available in days
days after you enroll
Frequently Asked Questions
When does the course start and finish?
The course starts now and never ends! It is a completely self-paced online course - you decide when you start and when you finish.
How long do I have access to the course?
How does lifetime access sound? After enrolling, you have unlimited access to this course for as long as you like - across any and all devices you own.
What if I am unhappy with the course?
We would never want you to be unhappy! If you are unsatisfied with your purchase, contact us in the first 30 days and we will give you a full refund.